This will be a long one...
So two pieces of news in one here. Korg are closing their old user.net server, and all the registrations with it. If you own any of the Korg soft synths or the whole collection you will have an account there that needs to be migrated. The second piece of news is that they have just released a new instrument in what was their Legacy Collection, now simply called the Korg Collection, the ARP Odyssey: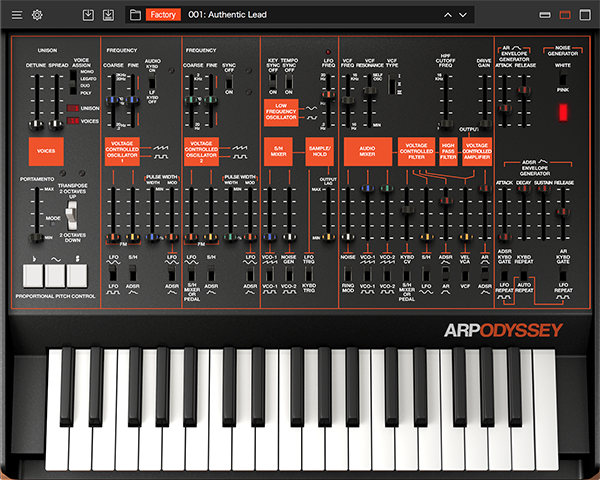 The ARP ODYSSEY which Korg brought back in 2015 was designed with the advisory assistance of ARP Instruments cofounder David Friend. In that model, Korg was able to nail the sound of the original ARP Odyssey. Rather than using generic modeling techniques that simulate output sound, KORG digitized the transistor, condenser, and resistor used in the hardware model. We used those digitized components to reconstruct the same circuits as the hardware. With this method, KORG has completely reproduced the complex sound and parameter characteristics which are born from the entirety of the ARP ODYSSEY's circuits.

he software includes the 3 different filters originating from the different dates of production and the drive circuitry which were features of the hardware ARP ODYSSEY brought back by KORG. It has also been newly equipped with the long-awaited Voice Assign Mode which makes chord playing possible, an arpeggiator which can be minutely programmed as with a sequencer, and an effects unit which can bring variegated transformations to your sound. Also, you can switch between the three designs of ARP Odyssey which are different based on the date of production. In addition to the Rev3's iconic black panel with orange silk-screening, you can get the Rev1's white panel and the Rev2's black panel with gold silk-screening.
http://www.korg.com/us/products/softwar ... lineup.php
http://www.korg.com/us/news/2017/1222/
While the rest of the collection isn't updated yet (the tiny GUIs have long been bemoaned), the good news is that this is coming:
Some features widely requested by users will be added to the KORG Collection in future updates. We plan to support AAX format and refine the user interface on a large-scale among other improvements but until then we hope you love all the new features so far and enjoy making music with the KORG Collection of synthesizers offered by KORG.
There is currently a sale on til end of Jan 2018, with the Odyssey at $69.99 reduced from $99.99. Existing Legacy Collection users can get this for $49.99, more on which below.
Now for details on this server migration:
For Current Users of KORG Legacy Collection: Announcement of Server Migration Accompanying Partial Termination of Service

We will soon be migrating our server to KORG ID and KORG Shop along with the partial termination of service of KORG USER NET. We sincerely apologize for any inconvenience that KORG Legacy Collection users may experience. We request that you follow the instructions on the page below to complete the migration procedures. Using the coupon code which will be issued, you will be able to switch from the KORG Legacy Collection series to KORG Collection.
....and here's where you can do that -
http://www.korguser.net/login.asp?OS=WIN&LAN=1&TOP=1
In order to proceed, new registration to KORG ID is required. It is not possible to take over the account of KORG USER NET. Thank you for your understanding.

If you own the KORG Legacy Collection - Special Bundle, please complete the entire product registration at KORG USER NET. Please note that upgrade coupon for the Special Bundle will not be issued if registration is not completed.

KORG Legacy Collection - Special Bundle users will be able to add ARP ODYSSEY and upgrade to the "KORG Collection - Special Bundle" by using the upgrade coupon (at a special price of US $49.99)
I've just migrated to the new server and it was painless - log in to the old Korg User account using the link above, then click Migration Code and follow the link to the new collection, entering the code there which reduces the price from $199 to zero (not bought the Odyssey as yet). Don't get excited - this is just pretty much exactly what you already own. But you need to get registered at the new address before the old shuts down so worth doing sooner rather than later.
If you don't have the collection but do have some individual synths, there are upgrade paths for those here -
http://www.korg.com/us/news/2017/1222/
Phew. I need a lie down.
[EDIT - just a warning here from Evil Dragon who posted this at KVR (hope it's ok to repost here Mario). I'm not installing anything yet, the migration is the important bit for now.
OK wow, their installers are fckd up... first off they don't respect the path you input for installing the legacy collection (it ALWAYS goes to Program Files (x86)\Korg\Korg Legacy, no matter what else you type), and then they don't ask you for the location of your VST plugins folder (32-bit goes in the above mentioned folder, 64-bit you will find in Program Files\VstPlugins\Korg). Ugh.
EDIT ENDS]
EDIT 2 - for me as I keep losing where the new products now live, and it's here -
https://id.korg.com/accounts